Our Solutions
Miles Townsend offers a comprehensive suite of solutions to support you and your business
The compliance landscape is becoming increasingly complex with constant changes in statutory and common law, accounting standards, and with a proliferation of new tax office pronouncements. It is our job to remain on top of these changes and ease the compliance burden for our clients.
Our focus is on core service offerings which include:
Taxation Consulting
Business Services
Audit & Assurance
Management Consulting
Corporate Secretarial
Business Valuations & Evaluations
Superannuation and Retirement planning
Succession & Estate Planning
It is through these offerings we drive value to our private clients, and through these core pillars we provide an integrated service offering.
Taxation Consulting
The practice is a tax agent registered by the Australian Taxation Office. Our practitioners provide tax planning solutions to ensure the best tax effective outcome is achieved for:
Businesses
Individuals
Investors
Superannuation
Proprietary Companies
Clubs, Societies & Associations
Partnerships
Trusts
Non Residents
Business Services
We provide a broad range of accounting services including the preparation of Financial Reports, Income Tax Returns, Business & Installment Activity Statements and appropriate lodgment with the Australian Taxation Office.
We handle a wide variety of accounting software, including:
Xero
MYOB
Sage - HandiSoft
BGL
We also offer services for:
Budgeting & Cashflow
Finance Applications
Asset Acquisitions
Audit and Assurance
Andrew Townsend is a registered Company Auditor and a registered Self Managed Superannuation fund Auditor. We undertake audits for statutory purposes and audits and reviews in line with our clients' engagement requirements. The practice has a wealth of experience in conducting Solicitors' Trust Audits.
Our extensive audit experience encompasses:
Private company audits (full & partial)
Incorporated Associations & Societies
Solicitor Trusts
Estate Agents
Travel Agents
Various engagements on behalf of financial institutions
Management Consulting
Our clients benefit from our practitioners' understanding of key success factors for businesses in different industries and market segments. It is because of this we are engaged as trusted advisors to consult on matters such as business valuations, management reporting and decisions, and succession planning. Graeme Miles is an accredited financial planning specialist.
Corporate Secretarial
We provide our clients with a range of Corporate Secretarial and Support Services. We prepare annual Company Reviews and solvency resolutions for our Client companies. As the registered office for many of our Clients we maintain in safe custody all necessary statutory files and records.
Our Support Services can arrange for the registration of companies, the preparation of trust deeds, and can similarly arrange for any amendments or alternations to existing deeds and documents.
Bookkeeping Services
We offer complete bookkeeping solutions, provided by qualified Bookkeepers.
From $50 + GST per hour*
* Please note: this rate only applies to Xero & MYOB Live. Rates for other products or desk top versions of MYOB may be higher.
By utilising an online systems we can assist our current clients, whom are located throughout Australia and also internationally.
Services our Bookkeepers provide:
Bank reconciliations

Direct bank feeds from your financial institution (Significant time saver)

Transaction processing

Accounts receivable reconciliation

Accounts payable reconciliation

File setup and transfer

Payroll

BAS preparation

Asset depreciation entry

Hire purchase & Chattel Mortgage processing

Monthly Management reports

Various other services
Why are our rates so competitive?
Utilising an online system significantly reduces unproductive time, which allows us to pass the saving on to you

Our bookkeepers work remotely, eliminating overhead costs

No travel time (Which most bookkeepers charge for)
How does our solution work?
Select the frequency of updating your records (anywhere from daily to annually)

Collect your information, either electronically or manually

If your information is received manually, we converted to electronic format and stored on a secure portal which clients can access at any time

Our Bookkeepers undertake the work remotely from their office

Communicate any questions via phone or email

Job is complete
Throughout the process you have secure access to all of your original information and bookkeeping program, at any time, from any location with internet access.
Why is a remote solution better than in-house?
Lower costs

No travel time

Complete 24/7 assess to your financial records from any location with internet access

No time wasted backing up and sending data files via post or email

Data security (full online encrypted backup)

Availability of real time

data

Tailored

solutions to your industry and business

No overheads costs incurred by your business for computers and office space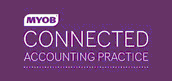 Miles Townsend Pty Ltd is a MYOB connected Accounting Practice and authorised reseller of the full range of MYOB products. We have extensive experience with MYOB Desktop applications and the new MYOB live cloud solution. MYOB's stand-alone functionality is arguably the most compressive of any Small to Medium Enterprise (SME) record keeping solution on the market. However, the downside to MYOB's features is usability, which does take time and training to understand.
Miles Townsend has developed a direct integration between MYOB and our accounting software (Handisoft) which reduces time in preparing clients year end accounts and ultimately results in lower compliance costs for our clients. Many Accountant's manually process data between MYOB and their system, which is not only time consuming and inefficient but can lead to inadvertent errors. Our system eliminates these issues.
If you are not quite ready to move to a cloud based system, but may be in the future then MYOB is the solution for you.
If you are currently using MYOB in your business and wish to extract the maximum for your investment, reduce your processing time or simply ask a question you can email through our contact page or give us a call.